Nintendo Switch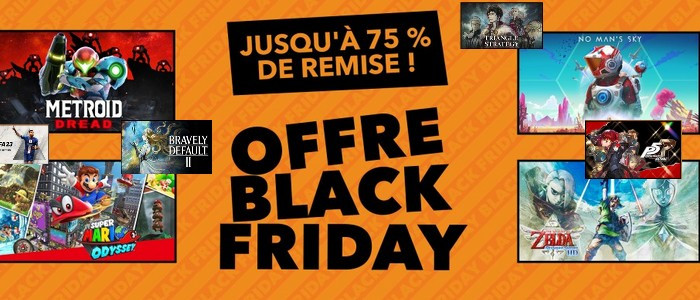 Black Friday : Metroid, Zelda, Persona, Mario, GTA, FIFA, DOOM... Notre sélection des super promotions du Nintendo eShop de la Nintendo Switch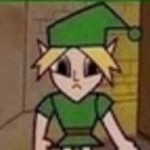 Par
rifraff
- Le 25/11/2022 à 11:11
Mise à jour :
Petit rappel : l'eShop est en promo actuellement pour le Black Friday avec de belles ristournes sur des tas de jeux. retrouvez notre sélection sur cette page
News originale :
Le Black Friday, c'est la semaine prochaine, le vendredi 25 novembre, mais, comme convenu, la fête commence dès aujourd'hui sur le Nintendo eShop de la Nintendo Switch avec les Offres Black Friday permettant d'obtenir de grosses ristournes (jusqu'à -75%) sur des centaines de jeux, des petits, des gros, des indies, des Nindies et des jeux Nintendo. L'offre est pléthorique et il est vraiment difficile de s'y retrouver. Cette fois-ci, il y a vraiment le choix... Tellement que nous ne pouvons même pas mettre tous les jeux qui nous plaisent sur cette page... Cependant, on a tout de même essayé de faire une première sélection en repérant de bonnes affaires (par rapport au prix ou à la ristourne ou tout simplement au rapport qualité-prix.) Retrouvez cette sélection ci-dessous et n'hésitez pas à partager avec nous, vos coups de cœur et vos bons plans en commentaires.
L'offre Black Friday du Nintendo eShop est lancée !

Économisez jusqu'à 75 % sur plus de 1 000 titres du Nintendo eShop dont Metroid Dread, Super Mario Odyssey et The Legend of Zelda: Skyward Sword HD. L'offre prend fin le 30 novembre à 23:59, n'attendez pas trop pour en profiter !
Notre sélection de l'Offre Black Friday 2022 du Nintendo eShop
BONNES AFFAIRES :
DOOM Eternal : 29,99 € 11,99 €
FIFA 23 Nintendo Switch Édition Essentielle : 39,99 € 23,99 €
The Sinking City : 49,99€ 9,99€
Warhammer 40,000: Mechanicus : 39,99 € 9,99 €
Terraria : 29,99 € 11,99 €
Crash Bandicoot 4: It's About Time : 49,99 € 24,99 €
The Witcher 3: Wild Hunt : 39,99 € 19,99 €
Crash Team Racing Nitro-Fueled : 39,99 € 15,99 €
Dark Souls: Remastered : 39,99 € 19,99 €
Monster Hunter Generations Ultimate : 49,99 € 14,99 €
Blizzard Arcade Collection : 19,99 € 9,99 €
LEGO Les Indestructibles: 59,99 € 8,99 €
Legend of Kay Anniversary : 29,99 € 8,99 €
Dead Cells : 24,99 € 14,99 €
Shantae: Half- Genie Hero Ultimate Edition 24,29 € 12,14 €
Lost in Random : 29,99 € 5,99 €
de Blob 2 : 29,99 € 8,99 €
Unravel Two : 29,99 € 5,09 €
Bloodstained: Ritual of the Night : 39,99 € 13,99 €
Yu-Gi-Oh! Legacy of the Duelist: Link Evolution! : 39,99 € 9,99 €
Team Sonic Racing : 39,99 € 13,99 €
SAINTS ROW: THE THIRD™ - THE FULL PACKAGE : 39,99 € 7,99 €
Mortal Kombat 11 : 49,99 € 14,99 €
MLB The Show 22 : 59,99 € 9,99 €
My Friend Pedro : 19,99 € 7,99 €
Tandem: A Tale of Shadows :14,99 € 7,49 €*
Katana ZERO : 14,99 € 8,99 €
Catherine: Full Body : 49,99 € 14,99 €
Two Point Hospital: JUMBO Edition : 39,99 € 13,59 €
Thronebreaker: The Witcher Tales : 19,99 € 9,99 €
Saints Row IV: Re-Elected : 39,99 € 7,99 €
Burnout Paradise Remastered : 29,99 € 9,89 €
Cris Tales : 39,99 € 7,99 €
MONSTER HUNTER RISE : 39,99 € 19,99 €
Puyo Puyo Tetris 2 : 39,99 € 11,99 €
Ary and the Secret of Seasons : 39,99 € 7,99 €
Need for Speed Hot Pursuit Remastered : 39,99 € 7,99 €
Persona 5 Strikers : 59,99 € 23,99 €
Plants vs. Zombies™ : La Bataille de Neighborville Édition Intégrale : 39,99 € 9,99 €
Petit PRIX - Moins de 5€
She Wants Me Dead : 9,99 € 1,99 €
Super Bomberman R : 29,99 € 4,49 €
Panzer Dragoon: Remake : 24,99 € 2,49 €
Down in Bermuda : 19,99 € 0,99 €
INSIDE : 19,99 € 1,99 €
Asterix & Obelix XXL 2 : 14,99 € 3,74 €
Green Hell : 24,99 € 2,49 €
LIMBO : 9,99 € 1,99 €
QUAKE : 9,99 € 3,99 €
SEGA AGES Columns II: A Voyage Through Time 6,99 € 2,09 €
Scribblenauts: Showdown : 39,99 € 4,79 €
Pikuniku : 12,99 € 3,24 €
Mulaka : 19,98 € 1,99 €
KILL la KILL - IF : 19,99 € 4,99 €
Gal*Gun 2 : 29,99 € 4,49 €
LUMINES REMASTERED : 14,99 € 4,49 €
Castlevania Anniversary Collection : 19,99 € 3,99 €
The Gardens Between : 19,99 € 3,99 €
Q Rematered : 7,01€ 4,69€
GRANDS JEUX NINTENDO :
Xenoblade Chronicles 2 : 59,99 € 39,99 €
Metroid Dread : 59,99 € 39,99 €
Super Mario Odyssey : 59,99 € 39,99 €
The Legend of Zelda: Skyward Sword HD : 59,99 € 39,99 €
ASTRAL CHAIN : 59,99 € 39,99 €
Xenoblade Chronicles: Definitive Edition : 59,99 € 39,99 €
Hyrule Warriors : L'ère du fléau : 59,99 € 39,99 €
Et aussi :
Pocky & Rocky Reshrined : 29,99 € 20,99 € (mon coup de coeur !)
No More Heroes 3 : 59,99 € 29,99 €
Disney Dreamlight Valley : 29,99 € 25,49 €
Persona 5 Royal : 59,99 € 41,99 €
No Man's Sky : 49,99 € 39,99 €
Grand Theft Auto: The Trilogy – The Definitive Edition : 59,99 € 39,99 €
Crash Bandicoot™ N. Sane Trilogy : 39,99 € 19,99 €
TRIANGLE STRATEGY : 59,99 € 39,99 €
OCTOPATH TRAVELER : 59,99 € 29,99 €
The World Ends With You -Final Remix- : 49,99 € 29,99 €
DRAGON QUEST® XI S : les combattants de la destinée – Édition ultime : 59,99 € 29,99 €
Eastward : 24,99 € 14,99 €
Golf Story 14,99 € 7,49 €
Astérix & Obélix Baffez-les tous ! : 39,99 € 15,99 €
Diablo III: Eternal Collection : 59,99 € 29,99 €
The Elder Scrolls V: Skyrim : 59,99 € 29,99 €
Taxi Chaos : 29,99 € 9,99 €
Portal Knights : 19,99 € 6,99 €
STAR WARS™ Episode I Racer : 13,72 € 6,86 €
LEGO NINJAGO®, Le Film : Le Jeu Vidéo : 59,99 € 11,99 €
JoJo's Bizarre Adventure: All-Star Battle R : 49,99 € 34,99 €
Metro: Last Light Redux : 24,99 € 4,99 €
Arcade Classics Anniversary Collection : 19,99 € 3,99 €
Journey to the Savage Planet : 29,99 € 8,99 €
Persona 4 Arena Ultimax : 29,99 € 16,49 €
Subnautica : 29,99 € 14,99 €
---